I just came in from the garden. I wanted to see how the turmeric was doing.
Flowering turmeric in my garden
We've only recently begun growing turmeric, but my husband has been cooking with the orange-colored spice for a couple years. He started out adding liberal sprinkles of the powdered seasoning to stir-fries and egg dishes before he began grating small amounts of the fresh roots directly into his cooking. I'd buy turmeric roots whenever I was in Orlando, either pre-packed at 1st Oriental Market or sold individually at Whole Foods Market.
Prepackaged turmeric roots from 1st Oriental Supermarket in Orlando
Eventually, instead of using purchased turmeric, we decided to sprout some of the rhizomes I bought and grow our own.

Turmeric, Curcuma longa, grows well in Central Florida. Native to southwest India, this member of the ginger family grows just under three-feet tall with broad leaves surrounding a single multi-flowered bract boasting pink and yellow flowers. It's a pretty plant with a compact footprint. It doesn't take up too much garden space and does well as a container plant, too. While it prefers sunny, moist locations, I've planted it in assorted areas including shady, drier spots, and it seems to be performing well in them all.
Turmeric growing on the edge of a bamboo grove


Like many other gingers, turmeric's top growth dies back when the cold weather arrives. In Florida, the underground rhizomes remain unaffected by the cold and send up new shoots the following summer as temperatures warm. However, in colder parts of the country, rhizomes must be dug up and stored inside until spring when they can be replanted. Either way, the underground rhizomes multiply during the growing season, producing an ongoing supply of roots for cooking.

We haven't entered the dig-up-and-use stage yet. Our turmeric plants are just beginning to mature. Of the five individual rhizomes I planted last year, one has multiplied into a small clump with several of the plants starting to flower. It's doing exceptionally well even though it's growing in a somewhat shady, non-irrigated location.
One turmeric root multiplied into several, forming a clump of leafy plants
The other year-old plantings, which are all growing in less well-tended beds, are slightly behind in their development due to competition from other plants. Within the last two months, I planted about a dozen more rhizomes from products purchased at both of the Orlando markets. Now that the weather is warm and rains are frequent, each one has started to send up young leaves.
A single root planted in irrigated soil sprouts its first leaves


Part of the reason turmeric does well in Central Florida's summer heat is because it is native to the warm climate of southern India where it was first cultivated more than 4,000 years ago. Throughout history, it has been widely acclaimed by numerous cultures for its culinary, medicinal and textile dye properties.

Although you may think you've never tried turmeric before, if you had a meal of curry or have bitten into a mustard-slathered hotdog, you've eaten turmeric. It is the main ingredient in curry and is also responsible for the yellow color in mustard. In recipes, it is a less expensive substitute for saffron and when combined with annatto, it gives dairy products like butter, yogurt and cheese a bright, golden color.


Even Buddhist monks take advantage of turmeric root by using it as a textile dye for their saffron-colored robes.
Turmeric dye produces a bright orange color
Medicinally, turmeric has been a part of Ayurvedic and Chinese medicine for thousands of years. It is recognized as an anti-inflammatory agent used to treat liver problems, digestion issues, skin diseases and wounds. More recently, its curative properties have also been embraced by Western medicine. The active ingredient in turmeric, curcumin, is a powerful antioxidant that has been proven to be effective against several chronic, debilitating diseases.


While my husband has incorporated turmeric into his diet because of its medicinally curative and preventative potential, I like the plant because of its beauty in the garden.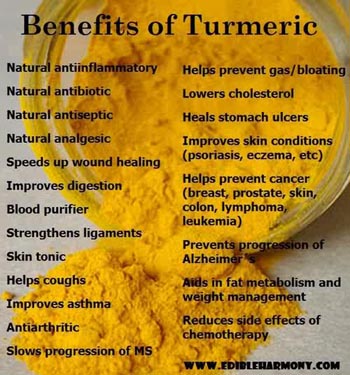 All that and a pretty plant to boot!
Turmeric bears an attractive flower tucked tightly within large broad leaves. I like the way it pops up every year when the weather warms and quickly grows into a compact but attractive addition to the landscape. It's also fun to grow a plant gleaned from the grocery aisle instead of a garden center.